Volunteers celebrate Earth Day planting 400 trees
A group of volunteers have planted 400 trees for Earth Day! It doesn't sound like it was easy work, but well worth it - their riverbank is now protected and the risk of flooding is reduced. Great job and congratulations to the Maumee Community.
Past old brick warehouse buildings and a Huck Finn slide down the soil riverbank, able-bodied volunteers came Sunday with shovel and muscle to plant nearly 400 young trees.
More than 250 people celebrated Earth Day by lending a hand in some way to hack away at the invasive Asian honeysuckle - easily spotted as the earliest green along the river - and to plant the 380 young trees along 1,000 linear feet of the Maumee River.
The Earth Day event, at Wayne Street where it meets Glasgow Avenue and the railroad tracks near Dwenger Avenue on the city's east side, was sponsored by Save Maumee Grassroots Organization. Money to buy the trees for this event and others this year and next came from a $50,000 federal grant from the U.S. Forest Service, said Lydia LaMont, Save Maumee's president.
Down on the riverbank, Abigail King, vice president and founder of Save Maumee, worked planting trees and directed others. Volunteers hauled big buckets of water out of the muddy Maumee to water the young trees, besides the back-breaking work of digging. Species planted included oak, Ohio buckeye, hickory, sycamore, dogwood, spicebush and arrowwood.
"This is how you protect the riverbank," King said, looking out at the river rolling by. "You give the water what it needs."
Save Maumee's goal is to plant 1,390 trees this year. Adding about 400 trees trees Sunday will capture nearly 23,000 gallons of water each year that will reduce flooding elsewhere, according to information distributed at the event.
The trees also reduce the sediment load to retain 190 tons of soil each year. Sediment makes the river brown, experts say, and represents the loss of wetlands.
Volunteers came as a result of social media and enjoyed perfect skies and 70 degree weather to carry out their goal. Bruce Allen has been volunteering for years and has gone to Washington, D.C. with the Save Maumee organization to lobby Indiana lawmakers on environmental legislation. Sunday he was hauling tires he found in the river up the riverbank.
"Kids used to think it was hilarious to roll them through the bridge," Allen said. The new bridge on South Anthony Boulevard doesn't allow that, he added. Allen also planted trees.
Barb Clark, a board member for Trees Indiana, spent three hours down on the riverbank and had mud on her boots and clothes to prove it. Clark was going home, she said, to plant yet another tree in her rain garden and then kick back with a barbecue and a Pale Sierra Nevada beer.
"She really means what she says," Clark said of Frost-King whom she met at IPFW.
Of critical local importance is replacing the trees that have fallen victim to the emerald ash borer by planting a variety of trees, King said. "According to Plan-It Allen, Allen County's comprehensive plan, most of the forested corridor along rivers and streams has been removed in addition to 24 percent of our tree canopy that is scheduled for removal due to damage caused by the emerald ash borer," King further stated in a release. "Add all the concrete and rooftops and reduction of natural filtration devices like trees and you don't need to wonder why we have flooding problems."
The honeysuckle plant spreads because birds eat the berries, Allen said. The berries are mostly water with little nutrients, causing the birds to eat them down. When the birds eliminate their own waste, the seed is spread.
This article was originally published on The Journal Gazette. Read the original article.
Humans have cut down three trillion trees. Will you replace your share?
CC BY 2.0 Lloyd Alter
When scientists calculated that there were 3 trillion trees on Earth, the higher-than-expected number prompted the UN to significantly up its ambitions in terms of a tree planting campaign from a billion to a trillion.
Now Laura Kehoe, an Irish PhD student of wildlife conservation is hoping to achieve similar things in terms of citizen engagement. Specifically, Kehoe is hoping to leverage the fact that humans have also chopped down nearly 3 trillion since we learned to wield an axe to prompt each of us to take up our part of putting those trees back.
Here's the basic pitch I received in an email from Kehoe:
"We have cut down nearly 3 trillion trees globally. That may sound like a lot, but on average it's only 400 trees per person. I wanted to figure out how I could plant my missing 400 trees and found a highly rated charity that does it for only 10c a tree. They manage this by working with local communities to plant forest gardens - creating agricultural landscapes that are sustainable long-term and regenerate degraded land. So, it turns out, for only $40 I could plant my missing trees."
So Kehoe and some friends set up 400Trees.org in case others want to help replenish "their share" of deforested trees with a donation of just $40.
It's an interesting idea. Often visualizing and personalizing a global problem can help us to feel empowered to make a difference. Sure—we can quibble about what the notion of "our fair share" really looks like. After all, a reasonably well-off citizen of a Westernized consumer society is probably responsible for more forest destruction than a poor person living in Nairobi. But I suspect such quibbles miss the point.
After all, if we are splitting all the trees ever chopped down among those of us who are alive today, we are taking on a significant share of the destruction that was wrought before we were even born.
Either way, I tend to think this is less about guilt tripping each of us into making amends, and more about empowering each of us to make a significant—and yet totally manageable—contribution to creating a better world. From my involvement in a campaign to replant mangrove forests to my wonder at an innovative 1,200 acre regenerative agroforestry project in Brazil, I am constantly amazed by what can happen when humans recognize and invest in the power of trees to make our world better.
This is one more example of people stepping up and making a difference.
This article was originally published on Treehugger. Read the original article.
A tree isn't just for Christmas

This Christmas, why not get your loved one a gift they don't know they're missing?
Sounds confusing I know, but hear me out because it might be the most original gift you give this year. A new study has shown that we have cut down 46% of all the trees we once had on Earth. That's nearly 3 trillion trees in total, but if we divide that by the number of people that are alive today we are each missing 400 trees. This is a bit more manageable, but it still sounds like a lot. Don't despair, there is an easy way in which you can plant a loved one's missing 400 trees with the added bonus of combating climate change and even relieving poverty.
Meet Gladys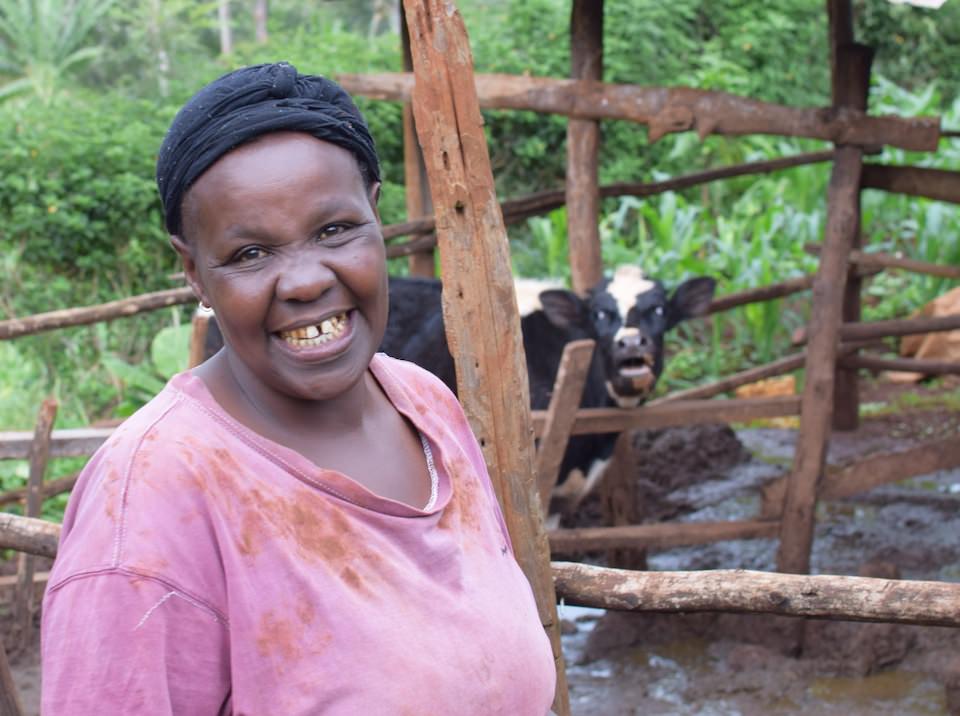 Gladys, her cow, and her flourishing forest garden. © Trees for the Future
Gladys depends on her small farm to support her three children and two adopted orphans. The past few years have been tough for Gladys, the precious soil on her land is slowly eroding away due to heavy rains and the natural slope of her land. To make matters worse, Gladys grows a lot of coffee, but the market price in Kenya has dropped in recent years, leaving her with crops that cannot be sold for a fair price. She now depends mainly on her cow's milk for income, but, like many farmers in the region, she uses the majority of her profits to buy expensive cattle feed.
We are a non-profit that partners with Trees for the Future to provide farmers across Africa with the tools and training to regenerate their land and create sustainable livelihoods. Trees.org have showed Gladys how to transform her degraded land into a forest garden that will benefit her entire family - including her cow. Gladys now grows her own highly nutritious fodder trees to feed her cow. Many trees have been planted on her land using contouring techniques which halt soil erosion and protect her from storms. At the same time, fast growing and nitrogen fixing trees are fertilising her soil and providing her with enough produce to sell at the market for competitive prices. Instead of relying on coffee, she now grows a diverse range of crops, including the much sought after and profitable macadamia nut. By the end of her first year, Gladys will have doubled her profits and paved the way for a secure future for her and her children.
With Trees for the Future your missing 400 trees can reduce climate change and provide a brighter future to those who are struggling to feed their families. For only $40, that's what you would pay for a Christmas tree, you could buy the gift of 400 trees. The donation comes with a personalized certificate which can be sent via email or mailed out. This Christmas give the gift that keeps on giving!